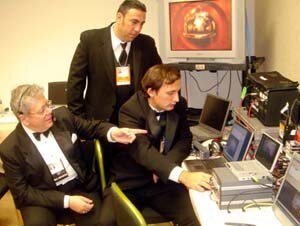 Go Backstage at the Golden Globes with VX30?
(Los Angles, CA, Jan. 16, 2005) - Visitors to the Hollywood Foreign Press Association's Website at www.hfpa.org can experience the glamour and excitement of that moment and dozens more through the revolutionary new video streaming technology of VX30?.
Go behind the scenes as journalists from around the world interview the Golden Globe winners following the presenation of awards in 24 categories. The video clips can be viewed on the Website throughout 2005.
VX30? is ranked by www.playerless-streaming.org as the best playerless streaming solution on the market today. The software employs a patent-pending technology which allows for higher compression of video files. The dramatic reduction in file size results in significant cost savings on bandwidth usage. VX30? instantly broadcasts TV-quality images over the Internet at 30 frames per second.
According to HFPA IT director Erkki Kanto, "We are extremely pleased with our selection of VX30? as this year's video streaming partner. In the past, length of the video clips on our Website were limited to just 60 seconds. Thanks to VX30?, visitors to our site can instantly access the complete post-awards interviews with their favorite celebrities."
Arben Kryeziu, developer of the software, manned the computer station himself throughout the ceremony, encoding and posting the video clips that hundreds of thousands of visitors to the HFPA Website will view throughout the year. According to Kryeziu, VX30? uses the most powerful codec available. "Through a single camera feed, users are able to capture send, create and stream live video. The applications are unlimited, and because the software is so affordable and easy to use, it is accessible to virtually any user."